By:
April 30th, 2015
Tags:

Advice
By:
December 3rd, 2014
Tags:

News
Wetter/Ruhr, Germany – 3. December 2014 – ABUS, the specialist for mobile security, will become the official technial partner of the UCI Professional Continental Team Bora-Argon 18, starting next season. As part of this partnership, ABUS will supply the professional cyclists with the official team helmet – a special edition of its top racing helmet, the Tec-Tical Pro v.2. The security expert will also give the pro team additional support: mechanical and electronic security systems for the equipment used in team vehicles and at team headquarters.
According to Christian Bremicker, CEO of the ABUS Group, the driving forces behind the sponsorship, as well as the foundations for the upcoming collaboration, include the team's German roots, its international focus and a similar philosophy. "Making a strong commitment to a German professional cycling team is the logical next step in our sponsoring strategy. It offers us a fantastic platform to showcase our products to a wide audience at the highest level of competitive cycling, while also giving us the opportunity to incorporate feedback from the professional riders into the further development and optimisation of our helmets. We look forward to this new cooperation in the world of professional cycling and wish the entire team a healthy season as well as lots of success," says Bremicker.
The Bora-Argon 18 team, still known under the name NetApp-Endura, competes on the UCI Professional Continental circuit and is currently the most successful and highest-level cycling team in Germany. The team's all-time highlight was its participation in this year's Tour de France, where it finished seventh in the overall classification and took third place in the individual time trials for stage 20. Bora-Argon 18 is a German team with a strong international roster of riders.
The partnership is initially planned to run for two years.
Since its founding in 1924, ABUS has provided people and businesses with the good feeling of security while offering a wide range of innovative security solutions in areas of home security, commercial security and mobile security. Along with bike locks, bike bags, and motorcycle and boat locks, ABUS's mobile security unit also offers cycling helmets, and specifically high-end racing helmets for professional competition. The independent corporate group, which is headquartered in Wetter/Ruhr, Germany, operates globally and is the market leader in a number of countries.
ABUS Mobile Security, Inc. announced today that they will sponsor the 2014 PeopleForBikes Ride on Chicago. The ride, which kicks off in Kansas City, MO on May 29 and covers more than 500 miles in 5 days before arriving in Chicago on June 2nd, benefits PeopleForBikes and is designed to raise both funds and awareness for safer and better bicycling in the United States.

ABUS Marketing Manager Joan Hanscom, who will join the ride as one of 25 for its entirety, explained the company's decision to become involved, "ABUS believes wholeheartedly in the mission of PeopleForBikes and we are very proud to sponsor the Ride on Chicago - especially as it finishes in our own hometown! Not only are we professionally invested in seeing safer and thriving infrastructure for bikes and bicyclists but on a very personal level we are all believers. Everyone in our office commutes to work by bike. We know from real life experiences that it's important to have safer roads for all cyclists."
She continued, "Chicago has made a tremendous investment in bicycling. We have a local frame builders, a women's only bike shop, a thriving bike share system, an expanding network of protected bike lanes, a robust network of trails and bike paths throughout the state. ABUS is proud to be a part of this community and we believe that by supporting PeopleForBikes and the Ride that we are making a very real contribution to seeing even more cyclists on the road riding safely here and in other communities - along the Ride route and across the whole country."
By:
April 29th, 2014
Tags:

Events
The Sea Otter Classic is a great event. It's a full-on festival for bike riders and racers of all stripes and this year did not disappoint. The ABUS crew was on the ground in Monterey, CA for all of the fun.
We took a divide and conquer approach this year. Some of us went to the Independent Bicycle Dealers Summit, others to the Bicycle Leadership Conference while I held down the fort in the Sea Otter Expo. It was great to run into friends from around the bike industry at events that ranged from serious presentations on the state of bicycles and bicycling in the United States, to rides with editors, to meeting racers and bike enthusiasts from all over. Fat bikes were EVERYWHERE and clearly the trend isn't cooling down with the end of a snowy winter (check out what Fat-Bike.com had to say about our Bordo Big here: http://fat-bike.com/2014/03/first-look-bordo-big-120-folding-lock/). We had a great time playing Pint Glass Smashball with the editors of Dirt Rag and Bicycle Times and one couple deemed it, "the best game EVER."
One of the locks that we put to good use at the Festival was the MultiCombiLoop. It's a versatile cable lock that can be used for all sorts of things. You can lock your bike with it in lower security settings, lock your accessories, helmet and wheels, or even use it for additional security on bike racks. Check out the great shots of it on the SRAM Neutral Race Services cars and in the FOCUS Bikes truck below!
By:
April 29th, 2014
Tags:

Events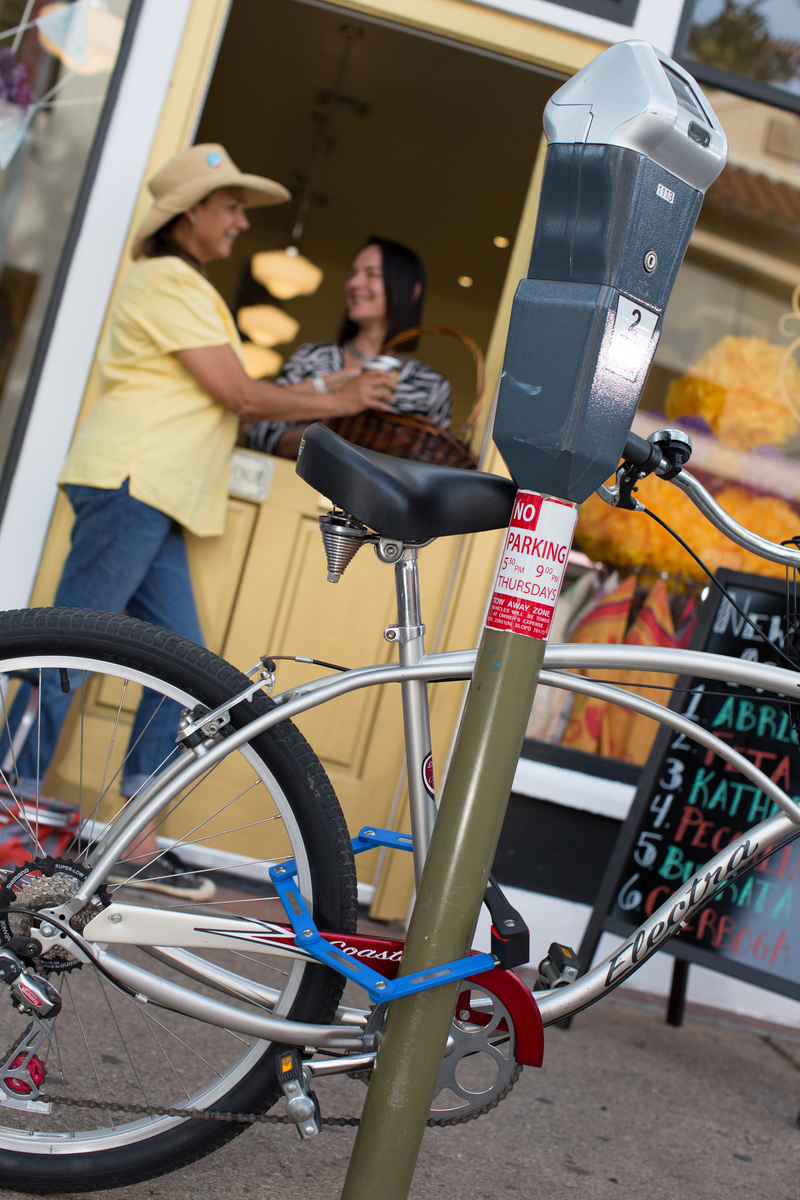 It's National Bike Month and hopefully that means you're spending more time out on the road with your favorite two-wheeled freedom machine. Before you do, it's important to do a couple of things - first, make sure your bike is in running order to get you around safely. Brakes, chain and cables may all need some lovin' after a long winter. Then make sure your helmet is in tip-top shape. If it's old replace it. Your head is worth it.
You're also going to need a good lock. Bike theft is on the rise and a high-quality lock can make the difference between your bike being there when you return or not. Bike thieves will tell you that they will often pass by a bike with a higher quality lock (see our line up of U-Locks and Folding) and focus on those that have easier to defeat or no locks on them. Don't let yours be the one that's easy to grab!
Our good friends at Bicycle Utopia in New York City created this awesome graphic with instructions on best locking practices and techniques. Check it out below: